Northerns Football Club

Northerns Football Club
Players can learn the basics and begin their career to football stardom with NFC. It's a great way of keeping fit physically, while spending time with friends.
Our club teaches players all they need to know about the game and coaching sessions are structured so that kids with all skill levels can get involved.
Coaching philosophy

All our coaching sessions are tailored by age groups to provide an enhanced learning experience. We welcome children from 5 to 15 years and believe our programs can help youngsters develop as individuals and build their confidence. Our coaching programs are structured on the Coerver Coaching Method.
Coerver Coaching is a global football coaching program inspired by the teachings of Wiel Coerver and created in 1984 by Alfred Galustian.
Coerver Coaching is:
A Method that focuses on Individual Skills Development and Small Group play
Endorsed and recommended by the top federations, club teams and corporations including:

French Football Federation
Football Federation of Australia
Chinese Football Association
Japanese Football Association
Bayern Munich FC
Newcastle United FC
Arsenal FC
Global partner - Adidas
The ultimate goal of the Coerver Coaching Method is to:
Develop skilled, confident and creative players
Make the game fun to practice and play
Teach good sportsmanship and respect for all
Coerver Coaching curriculum:
This curriculum is represented by The Pyramid of Player Development which consists of 6 building blocks.
Each block combines dozens of games and training exercises for all ages. All the exercises can be used by both coaches who are planning team training sessions and by players practicing on their own. With an online platform we are able to structure sessions between coaches and players to practice at home in order to continue building their Individual Skills while not at training sessions.
Ball Mastery is the foundation of every player's development and becomes essential for progress through the pyramid. But don't think of this as a ladder, where one level must be mastered before continuing to the next level. Instead each step is integral to the others and the player improvement is achieved, as the techniques at each level become stronger.
Teams
Juniors (U7 – U10)
Seniors (U11 – U15)
Training Times (All teams train on Tuesdays and Fridays)
Juniors
Tuesday 16h00-17h00
Friday 16h00-17h00
Saturday Match day
Seniors
Tuesday 17h00-18h00
Friday 17h00-18h00
Sunday Match day
Location
Reddam College Waterfall, Country Estate Drive, Waterfall, Midrand, 1685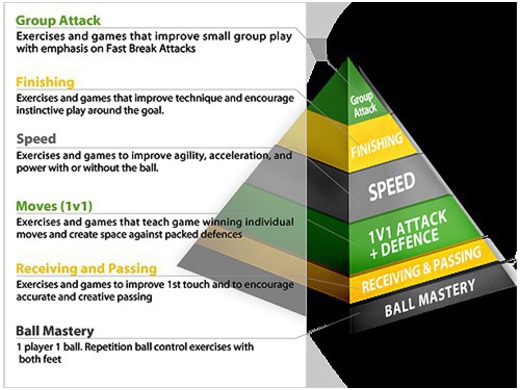 Follow the site to get the latest news and results straight to your email
Weather
5 MPH SE
51% humidity
Wed

33°C
21°C
Thu

33°C
20°C
Fri

34°C
21°C
Sat

34°C
22°C
Contact List
Theodora Crozét
theodora@northernsfc.co.za
+27 84 778 8223

Calendar
| Mon | Tue | Wed | Thu | Fri | Sat | Sun |
| --- | --- | --- | --- | --- | --- | --- |
| 1 | 2 | 3 | 4 | 5 | 6 | 7 |
| 8 | 9 | 10 | 11 | 12 | 13 | 14 |
| 15 | 16 | 17 | 18 | 19 | 20 | 21 |
| 22 | 23 | 24 | 25 | 26 | 27 | 28 |
| 29 | 30 | | | | | |